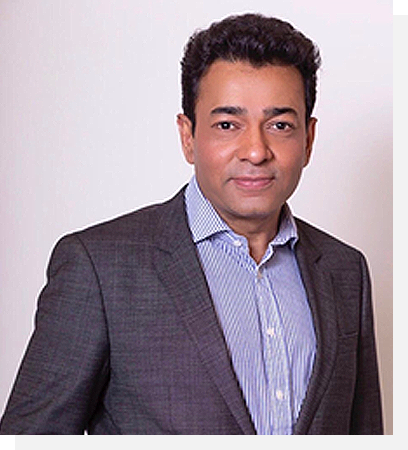 Prof. Arun Ranganathan
MBBS, MRCS, PGDip(Orth Engin), DM, FRCS(TrandOrth)
Trauma & Orthopaedic Spine Surgeon
Professor Arun Ranganathan is one of United Kingdom's leading spinal surgeons. He was appointed a young consultant at the age of 35 in Barts Health NHS Trust, having completed 3 spinal fellowships and surgical training in London, Leeds, Newcastle and Toronto. He was recently featured on Channel 5's 'Operation Live' to perform Spine Straightening Scoliosis surgery live for the first time ever in the world on live national television.
He is dually certified in Orthopaedic and Neurosurgery Spine. He completed the prestigious AO North America Advanced Spine fellowship from Krembil Neurosciences Centre and Hospital for Sick Children in Toronto, Canada under world-renowned spinal surgeons Prof Fehlings and Dr. Stephen Lewis.
He has been awarded a doctorate degree in the field of spinal surgery for research work undertaken in Sir Peter Mansfield ( Nobel Prize winner) Centre by the University of Nottingham. He has the rare distinction of being the youngest winner of the ISSLS( Volvo) prize for the best spinal research work in the world in 2004 and 2009. He is also the recipient of the Spine Society Of Australia award for best international research work in 2009 and the Britspine Award in 2004. He is an Honorary Professor of Orthopaedic and spine surgery in Chirayu Medical College, Bhopal University, India and also works as Honorary Professor at Bach Mai University Hospital, Hanoi, Vietnam which is the largest multispeciality teaching hospital in Vietnam.
He has the rare distinction to be one of the few spinal surgeons in the UK to be awarded a National Institute of Health Sciences Research (NIHR) Grant and is the chief investigator of 'PRESTO' a multicentre national trial on Thoraco-Lumbar Spine fractures. He has several publications in international peer-reviewed journals.
He has operated in several Asian countries, doing charity work and introducing new technologies to countries such as Vietnam, Nepal, India and Southeast Asia. He is an invited guest speaker in several national and international meetings and also conducts courses to train junior consultants across the world.
Although he is very conservative and analytical in his approach, if surgery is required he specialises in Minimal Access and Keyhole surgery which facilitates early recovery and return to normality. He has extensive expertise in all forms of adult and paediatric spinal deformity including osteotomies, complex spinal reconstructions and tumour surgery. Professor Ranganathan's practice believes in a multi-disciplinary team approach and he set up London Spine Care to amalgamate a group of well-reputed surgeons, physiotherapists, osteopaths and pain specialists to provide a holistic approach to all spinal pathologies.
He enjoys fitness activities and is a keen runner, ex-national-level tennis player and a mountaineer.
For more information visit www.londonspinecare.co.uk
FRCS (Tr&Orth), Royal College of Surgeons of Edinburgh (2011)
DM (Orthopaedics), University of Nottingham (2008)
PGDip (Orth Engin), Cardiff University (2008)
MRCS, Royal College of Surgeons of Edinburgh (2004)
More than 15 years of experience
Consultant Trauma & Orthopaedic Surgeon, The Spine Surgery London (present)
Consultant Trauma & Orthopaedic Surgeon, The Holly House Private Hospital (present)
Consultant Trauma & Orthopaedic Surgeon, The London Clinic (present)
Consultant Spine and Orthopaedic Surgeon, St Bartholomew's Hospital London (present)
Consultant Spine and Orthopaedic Surgeon, The Royal London Hospital (present)
Degenerative spinal conditions, spinal deformity, infections and cancers of the Spine
Invited guest speaker at several international meetings
Expert reviewer for several international journals including Spine
Awarded doctorate degree for research in the field of spinal surgery conducted in Sir Peter Mansfield (Nobel Prize winner) MR centre, University of Nottingham
Received ISSLS (formerly Volvo) award for Best Spinal Research Work in the Intervertebral Disc Physiology (2004, 2009)
Received Britspine International Award for Best International Spinal Research Work (2004)
Received Spine Society of Australia Award for Best International Spinal Research Work (2009)